Our first priority is making sure our campers stay safe and healthy.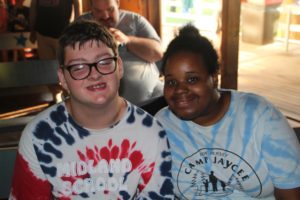 Health and Safety
The health and safety of our campers is of utmost concern. Our camp nurses are on duty 24 hours a day and staff a modern, well-equipped infirmary, where they administer all medication, provide both routine and emergency medical care, and offer comfort and support. We have a consulting physician available and relationships with several local hospitals for immediate access to more extensive care if needed. All of our staff are trained in basic first aid as well as safety and accident prevention.
Meals
Campers eat tasty, nutritious meals, served in ample portions in our air-conditioned dining hall. They also recive an afternoon snack.
Staff
Our counselors are wonderful, caring individuals, whose goal it is to make everyone's stay at Jaycee special and mormorable. Many return year after year. They are selected for their maturity, experience and are then extensively trained.
Cabins
Campers are assigned to groups by gender, age and ability level, along with a counselor. This is where many friendships develop over the summer.They sleep in comfrotable, air conditoned cabins with modern bathroom facilities. Groups are small, with six-eight campers in each group, so they recieve individual attention from their counselor(s).