Camp Jaycee is a magical place. It offers wonderful activities, expert care and an unmatched spirit. You will love it here.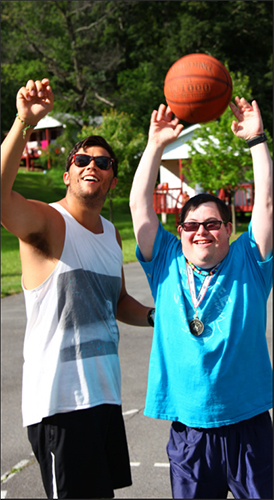 Camp Jaycee is a residential summer camp for adults with developmental and intellectual disabilities. Campers enjoy games, sports, swimming, boating, crafts, dance and nature. It is a magnificent environment.
The campsite is on 185 acres of forests, fields and streams in the lovely Pocono Mountains, a short distance from the New Jersey border. The centerpiece of camp is a beautiful two-acre spring-fed pond. Nearby, the air-conditioned dining hall is the hub of camp life. A modern, fully staffed infirmary is near the athletic field and basketball courts. The male and female living areas contain clusters of air-conditioned sleeping cabins, each with their own modern bathroom.
Program sites include a large recreation building with a stage, an arts and crafts building, a music hall, a nature hut and full athletic facilities. Camp Jaycee features an active, diverse program that includes swimming, boating, dance and movement, sports and games, arts and crafts, music and singing, and nature education.
New Jersey Camp Jaycee is located in Effort, Pennsylvania. The administrative office is in North Brunswick, New Jersey. Our campers come from both states, as well as New York.