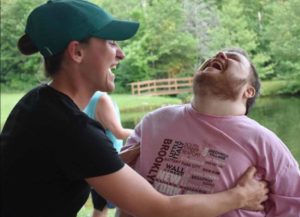 Please visit our registration site to get your application for the summer of 2023 started! Our summer dates are as followed:
1 – June 25, 2023 – July 8, 2023
2 – July 9, 2023 – July 22, 2023
3 – July 23, 2023 – August 5, 2023
4 – August 6, 2023 – August 19, 2023
Please click here to register.
NJ Camp Jaycee accepts campers 18 and older, for the best camp experience we encourage our camp participants to attend a full 2-week session. Campers may attend one week only during week 1 or week 3. Camp Jaycee offers four check-in dates, campers MUST register to attend at the beginning of a session.
Camp sessions are offered on a First Come, First Served basis, selected dates are subject to Director's recommendation/approval.
IF THE CAMP PARTICIPANT IS ENROLLED IN THE SUPPORTS PROGRAM (Fee for Service). PLEASE CONTACT YOUR ASSIGNED SUPPORT COORDINATOR FOR CAMP FUNDING REQUEST AND
ASSISTANCE

BEFORE YOU REGISTER.

Camp Jaycee will only be accepting online registrations. Please click here to register.

A $150.00 non-refundable application fee is required with the submission of an application.
Accepted Forms of payment
Check or Money Order by mail " Please make all checks payable to New Jersey Camp Jaycee"
All major credit cards are accepted over the phone
Additional Enrollment Forms (click on a form below)
Genoa Pharmacy Consumer Enrollment Form
Genoa do not dispense in child-resistant
Refer A Friend -Receive a $100 credit towards camp fees
Please take advantage of our referral program by recommending a new camper to Camp Jaycee. Our referral program is based on a $100 credit and is exclusive to all current campers. It has no monetary value. The referral credit will be credited to the camper's account after the referred camper has completed their first week of camp. Please make sure the referred camper completes the referral information on the application at the time of registration.
Scholarships
This program is provided by generous donations annually. Camp Jaycee is able to provide a partial scholarship to assist families based on their annual household income. Click below for more information about our scholarships.
If you would like to speak with someone regarding applying for financial assistance to help defray the cost of attending NJ Camp Jaycee
Click Here for the scholarship guidelines and application.